'Are you aware there are elements and principles in the design world?
Sure, inspiration and imagination are great tools when creating a beautiful design. However, in order for your creation to be successful and to not look chaotic or unfinished, it's important to follow some basic design rules.
These rules are the 'Elements and Principles' of Design.  Not all used at once.  But when chosen carefully they can produce an outstanding representation of the imagination.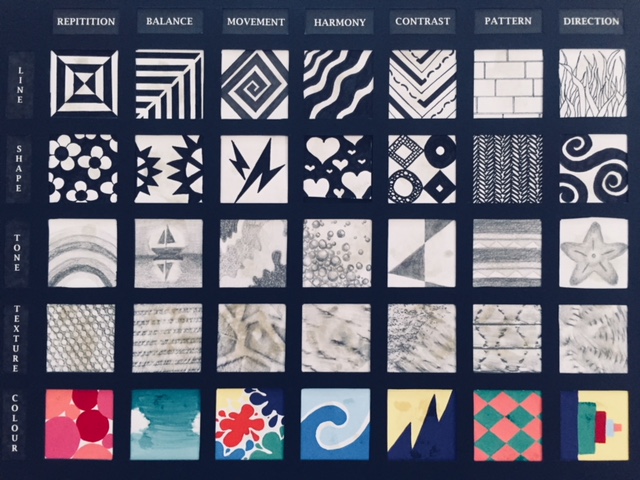 Here we give you a brief understanding and overview of a few of the concepts.
Elements of Design
Design 'elements' refer to a set of components which are used to effectively structure and define visual messages. Look at them as moving parts which when combined tell a story.
Line
We're all aware of what lines are.  They can be curved, angled or straight. Also vertical, horizontal or diagonal. Broken or continuous, wide or thin.  Line is the first and most basic concept of the design elements.
Colour
Colour is a very important element of design. It both affects and is affected by it surroundings and the colours in it.  Colour tells a story, and also creates moods and atmospheres in a space.  Each colour will say something different, and when used in combination with others will convey another mood or impression.
The colour wheel is a useful designers tool.
For more information on colour, click here https://www.inspiredspaces.com.au/choosing-the-right-wall-colour-for-your-room/
Shape
All objects are composed of shapes in one way or another.  Shapes provide interest.  It's important to understand how various elements of your design are interacting.
Texture
Texture can add depth, tactility and interest to an otherwise bland and flat design. However, use this element sparingly as too much can be overwhelming.
Principles of Design
The 'Principles' of design are a way of arranging the basic elements to create one whole design. How these elements and principles are applied will determine how successful a design may, or not be.
Repitition
Repitition can help unify individual elements, to bring them together to look like they 'belong'.
Contrast
Contrast creates emphasis and makes something 'stand out'.  It's an obvious difference between two elements. For example, light vs dark, smooth vs rough, large vs small.
Harmony
A 'harmonious' design is a 'completed' design.  It's important that all pieces work visually together in order to form the overall design concept.
Balance
Balance is a visual equality in your design, it ensures that one element does not overpower another.  There are two types of balance – Symmetrical and Asymmetrical.  Symmetrical being exactly the same both sides, a mirror image.  Asymmetrical is where elements on either side do not reflect one another. Instead, different elements are used on either side with similar perceived weights.
Great design is about creating harmony among the elements and principles, and having them unify as a beautiful final product.  No individual part should be viewed as more important than the whole design – everything needs to work together to create the overall effect.
If you need assistance with any Interior Design elements please contact the team of Inspired Spaces.